Culinary team-building

with Chefparade

Swap your shirts for chef's aprons and see how cooking brings people together.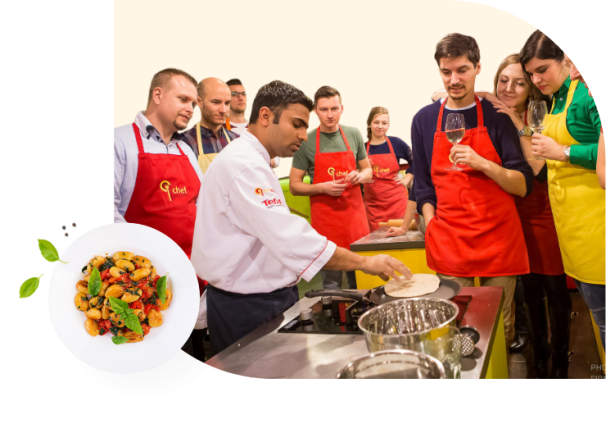 Corporate team building events
A corporate team-building event in a cooking school? What a delicious idea! Break the corporate ice with a spoon in your hand and see how cooking brings people together. Chefparade culinary team-building activities and corporate cooking classes can be organised at one of our premises or at the location of your choice. Preparing and enjoying excellent food together will provide your co-workers or business partners with a unique experience. Get to know your colleagues outside of the office and swap your shirts for chef's aprons. See how it works!

Choose

the location

of your corporate event
Ok, but where is the kitchen? In Chefparade we offer you different options when it comes to the location and organisation of your team-building activities.
No matter which location you choose for your event, our chefs will turn your team-building event, a training or a conference into a Michelin star experience.

Chefparade Cooking School in Prague / Holešovice with two state-of-the-art kitchen studios that can be divided into two separate spaces or combined to create a large space measuring 330 m2 that can accommodate up to 120 people. There is also a bar if you want to welcome your teammates with professional cocktails, and in the summer we can also invite you to our terrace, where we barbecue and enjoy the beautiful weather.
Chefparade Farm
Chefparade farm located near Mladá Boleslav in the village of Sukorady, 30 minutes by car from Černý Most, is a place with cooking at heart. A newly renovated old farmhouse with lots of space for indoor and outdoor cooking (allowing for BBQ, fishing, picking up herbs and bread baking), a conference room for up to 100 people in a newly built barn, and accommodation capacity of up to 24 people, all create an ideal place for team-building event not to be forgotten!

Location of your choice
The location of your choice - if you want to organise culinary team-building at your own premises or at a location of your choice (also outside) that's still possible! Our chefs are flexible (almost like cheese on the Italian pizza!) and they can offer you an unforgettable culinary experience no matter what the scenery or number of participants. We will bring the equipment and necessary ingredients for cooking and all you have to do is to let us know about your idea and preferred location and we will take care of all the details.

Would you like to rent a beautiful space for your training session, press conference, private event, photo session or simply to cook? Let us know about your plans and we will prepare a custom made offer to meet all your needs and expectations.
Teambuilding

with a pan,
the best for your team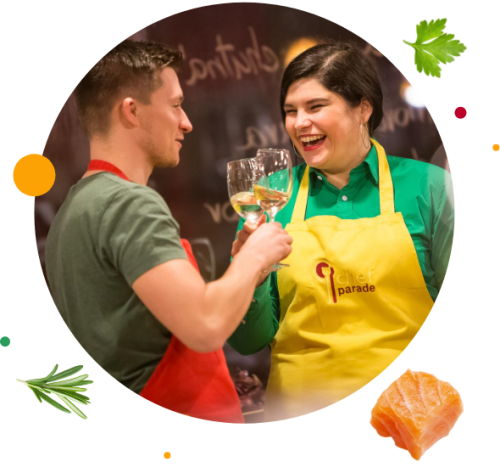 How it works
Once you arrive at the venue and are welcomed, the group is divided into teams (about 5 participants each) and given cooking and safety instructions. Each team gets 1 recipe and all the ingredients needed for its preparation. The menu is not complicated and there are chefs that will give you a helping hand if needed. The preparation of 1 dish takes about 60-80 minutes and it's only one of the ideas...

What will the teams be cooking?
We have prepared a list of unique dishes from all over the world that you can choose from. For culinary team-building, we recommend choosing a mix of dishes from international cuisines, but it is also possible to focus on just one type of dish or region. Would you be interested in sushi classes, steak preparation techniques or mastering the summer barbecue on the terrace? No problem! Our kitchen knows no limits. We would be happy to advise you on the menu selection and the agenda for the entire event.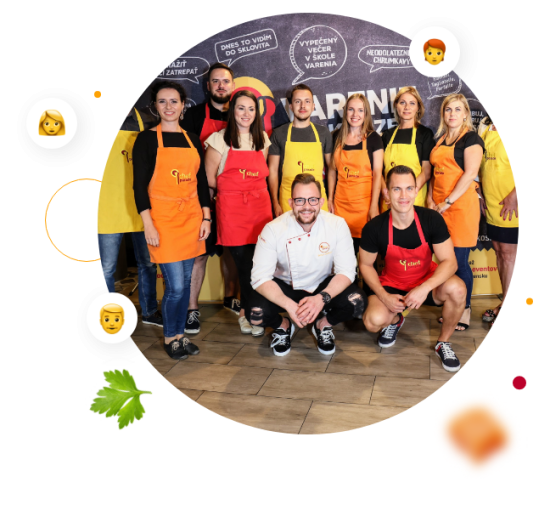 Contests and games
To make the evening even more exciting we can also prepare various contests and games. Will you be able to identify spices by smell, sort legumes with chopsticks or play our favourite Masterchef game? None will leave the event with an empty stomach and the winning team will not leave it with empty hands either - Chefparade's special culinary gifts for the winners will be the cherry on the cake.
Why organise
a corporate event with us?

15 years of experience
We have over 15 years of experience in offering cooking courses and organising team-building events. We take care of everything, you just come, cook and enjoy!
 

Best chefs, best food
Our chefs know how to prepare dishes from all over the world but they also know how to make cooking an unforgettable experience and fun for your employees. Chef's kiss!

Great locations
Our professional studio and the farm are perfect places for cooking, a relaxed day out of the office and bonding. There is everything you may need and the food... well, you have to taste it!
Do you want to teambuild with us?
Write us.
Non-binding request for price calculation for your teambuilding or space rental

Quality and tradition
since 2007 on the Czech market

A unique experience
a combination of flavors, aromas and pleasant company

Experienced chefs
with foreign experience

More than 50 courses
European and world cuisine