Why cook

with us?
Over 50 cooking courses, great chefs, friendly atmosphere, best food.
Hungry for more?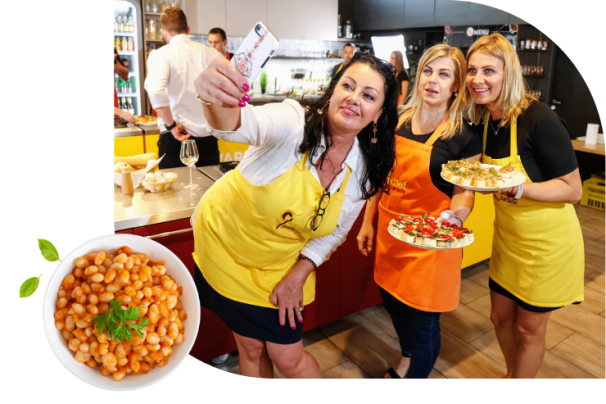 Why us? Please see our
5-course meal menu or
5 reasons to join us
!
GREAT SELECTION OF COURSES FOR EVERYONE
We offer over 50 courses to choose from with dishes from all around the world. The courses take place at our professional, fully equipped locations - at the cooking studio in Prague or a country farm. We believe that everyone can cook and that's why our classes are for beginners, fans of cooking and experienced cooks.
OUR COURSES GET 5-STARS RATINGS
Our participants (over 100,000 over the past 15 years) say they had 5 stars experience with us and that's why they often come back (please see the opinions and check the ratings online!) This is because we not only teach you how to cook. We show you that cooking is discovering new flavours and having fun.
OUR COOKING CLASSES ARE HANDS-ON
Put your aprons on because during our cooking classes you are the one who will be cooking - you slice, you grate, you fry, bake or simmer. You will also be serving the food and tasting it to the very last delicious bite. That's what we call hands-on courses but wait! Well, we do one thing... We clean the whole mess up!
OUR CHEFS - CREME DE LA CREME
Our experienced chefs make cooking easy and fun. They are masters of European and Asian cuisine and experts in sushi, meat, and sweets. They share their knowledge in an accessible way so that you can always reconstruct the menu you cooked in the studio at home.
WE LOVE FOOD, WE LOVE YOU
We cook from fresh, high-quality ingredients and delicacies (which we sometimes import from France, Italy or Asia) and use safe and healthy kitchen utensils and accessories. We care for your mood, safety and health and obviously, we please your heart for cooking and love for food.
Well, as you can see, we have all the ingredients needed for
a cooking course that will never be forgotten!
Chefparade in numbers

Over 100.000 participants
Over 15.000 culinary events
More than 50 courses to choose from
2 separate locations (studio and a farm)

Quality and tradition
since 2007 on the Czech market

A unique experience
a combination of flavors, aromas and pleasant company

Experienced chefs
with foreign experience

More than 50 courses
European and world cuisine