Thailand
Enter category description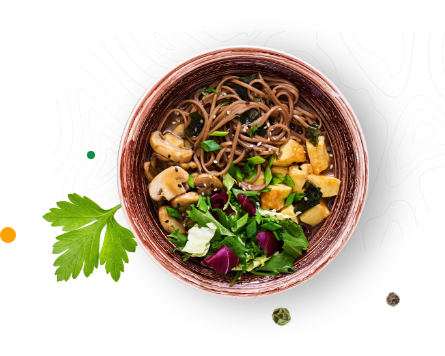 Who are cooking courses at

Chefparade

for?
Our cooking classes are for everyone who wants to spend their time in a different way, experience new tastes and flavours or upgrade their cooking skills. No matter if you are a beginner in the kitchen or an advanced cook, you can have fun and enjoy experimenting in the kitchen. Draw inspiration for excellent family lunches and dinners from our experienced and creative chefs, and surprise the one you love with your new skills!
 
What can I expect?
Taking part in one of our classes is always a great experience that lasts XXX hours. Small groups (up to XXX participants), lots of fun, a relaxed atmosphere, friendly environment, irresistible flavours, loads of practical information on cooking given out by one of our experienced chefs and... this unforgettable feeling of satisfaction from what you have achieved on one single plate! This will shout for a photo on your social media account, that's for sure but if you don't believe us, check what our 100,000 satisfied participants say about their experience with Chefparade. Done? So choose the course and we are getting a chef's apron ready for you!
 
Which

cooking course

should I choose?
Choose the course on the type of food you love or learn to cook something you would like to surprise your friends with at home. You can choose from a wide variety of cooking courses based on different cuisines and world regions or courses related to the type of food you prefer. Come join us for a peek under the lid of traditional European cuisine or master exotic combinations of Asian dishes. Learn to correctly prepare fish and seafood, recognise quality meat and sweeten your life with homemade treats. Sweet, sour or maybe umami? We are sure you will find something that will suit your taste.
 
Who are cooking classes at

Chefparade

run by?
Chefparade cooking courses are run by a team of experienced leading chefs. They do not only know how to cook but also how to share their skills and experience with others. Have fun, listen to the spicy flavours from the restaurants they worked for, and get to know their secret recipes and genius life hacks for cooking. Do you want to meet them? See what's on their plates here.
 
How many

participants

need to enrol for a

course

to take place?
At Chefparade you are the most important ingredient so even if it's just you, the course will take place. Cooking is a good thing to enjoy with a group of people or friends and food tastes the best when you can share it with someone else but a one-to-one course with our chef will also be a tasteful adventure, don't you think?
 
Can a

cooking course

be bought as a

gift

?
Yes! In fact, the love for good food and cooking should be shared with everyone you love so don't hesitate to buy a voucher for any cooking course as a gift. You can surprise your mamma with an Italian style cooking class, buy a voucher for one of our baking courses for your sister who loves making muffins or birthday cakes or transform your father into a grill master with one of our BBQ courses. You can also do it together with your girlfriend or boyfriend and take part in sushi making course as a Valentine's Day gift. Spending time together is the best gift and unforgettable experiences are our signature dish!
 
How much does a

cooking course

cost?
The cooking class for adults costs 2.990 CZK and the price for children's cooking classes is 1590 CZK. What's included is a bowl of fun, a box full of ingredients for your cooking, some nice drinks and high-quality wine paired with food by our sommelier, You will also be able to take advantage of the knowledge of our chefs and their cooking lifehacks, appreciate the fact that there is no mess in your kitchen, and use the skills you master during the classes in your home kitchen. So the plate is quite full, don't you think?!
 

Quality and tradition
since 2007 on the Czech market

A unique experience
a combination of flavors, aromas and pleasant company

Experienced chefs
with foreign experience

More than 50 courses
European and world cuisine